Visitez le Site de Fujitsu  ! Pour toutes informations ou commandes, veuillez me contacter.

Fujitsu CELSIUS cash back promotions – powered by NVIDIA
Performance That Boosts Your Productivity
Individually configured for vertical markets and certified for leading applications, Fujitsu's near-silent, high-quality CELSIUS workstations are the ideal basis for all your demanding visualization and computing needs... If you need a powerful entry-level desktop workstation, Fujitsu's CELSIUS W530 is the ideal choice. The FUJITSU CELSIUS W530 workstation gives you the graphics capabilities and performance you need for entry-level 3D/CAD or DCC applications.
Between May 1st 2016 and June 30th 2016 Fujitsu offers you the opportunity to claim a € 100 Cash Back when purchasing an eligible Fujitsu CELSIUS device. Don't hesitate any longer: select the device of your choice and claim the € 100 Cash Back. The break-through to a better way to work is in reach…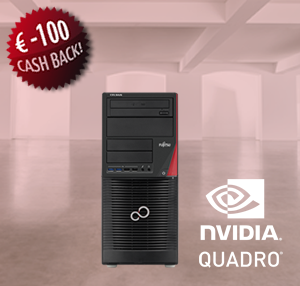 Specifications
OS: Windows 7 Pro + Windows 8.1 Pro license
Processor: Intel® Xeon® processor E3-1241v3
Memory: 8GB
HDD: 1.000GB HDD SATA III
Graphics: NVIDIA® Quadro® K620, 2 GB
Warranty: 3 Year On-Site warranty
Order code: VFY:W5300W480CBE